Maya
Shadow Hearts: Covenant
HP
305
MP
0
Element
Light
Weight
Light
Abilities
Poison

Combo*

Location
Domremy
Immunities
Paralysis


Seal
Petrify
Delay
Instant Death
HP Down
P-DEF Down
Sp-DEF Down


EXP Gained
333
Cash
333
Souls Gained
0
Item Drops
The Fool
NOTE
-
A member of the Black Dog Star Trio, Maya is the only wolf to attack in a team along with Mash and Martega.
Boss of the dreaded "Black Dog Stars." A decorated soldier in his youth. Now married and on the run from his nagging wife.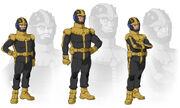 Maya, Martega, and Mash, are inspired by the Black Star Trio from the popular anime series "Mobile Suit Gundam" - a trio of minor antagonists with whom they share similar names.
Their group name also a contains a pun on Sirius - the "Dog Star".
Maya is based on the leader Gaia, the leader of the Black Tri-Stars.
Community content is available under
CC-BY-SA
unless otherwise noted.