Megafilaria
Shadow Hearts: Covenant
HP
98
MP
78
Element
Earth
Weight
Light
Abilities
Thorn
Location
Idar Flamme
Immunities
-
EXP Gained
210
Cash
280
Souls Gained
1
Item Drops
Thera Root

Soul Benediction (Rare)

NOTE
-
Creature that acts as an antibody inside Idar Flamme.
Life form that could be called the antibody of the Idar Flamme. It consumes invaders before evicting them from the castle, whereupon its own life ends.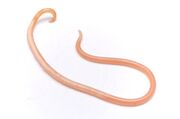 Mega is a Greek prefix meaning "very large".
Filaria (Latin, "Filament", "thread") is a subclass of parasitic roundworms. They live inside the various body systems causing damage as they carry out their life-cycle.
Community content is available under
CC-BY-SA
unless otherwise noted.