Comet Mask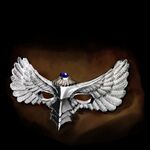 Shadow Hearts
"Mysterious mask exhumed by a certain foundation."
Known as Comet Mask in Shadow Hearts.
Description
A golden mask excavated from the Aztec temple of the sun, said to have been worn by priests during sun-worshipping ceremonies. It raises Defense Power.
P-ATK
Sp-ATK
P-DEF
Sp-DEF
P-EVADE
Sp-EVADE

Description
Said to have fallen with a meteor during an ancient tribe's sun worshipping ceremonies. Hard enough to repel steel weapons, it softly caresses the skin.

P-ATK
Sp-ATK
P-DEF
Sp-DEF

Description
Ancient tribal mask of the Nanawa tribe of South Africa, Legend says that it fell to earth in a meteor shower. Soft to the touch, but tough as steel against attack.

P-ATK
Sp-ATK
P-DEF
Sp-DEF

Community content is available under

CC-BY-SA

unless otherwise noted.