Mind's Eye is an uncommon but unique accessory.
It doubles Physical Attack strength, but as a consequence, the Physical Attack Judgment Ring automatically becomes an incurable Blind Ring.

Mind's Eye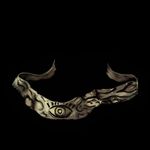 Shadow Hearts
"Hit Area invisible, but Physical Attack doubles."
Description
A blindfold made from the skin of a great swordsman, with the words "Don't look. Feel!" on it. The hit area disappears, but physical Attack Power doubles.
P-ATK
Sp-ATK
P-DEF
Sp-DEF
P-EVADE
Sp-EVADE

Description
A cloth that opens the mind's eye. The strange script says "With your feelings..." Hit area doubles, but Physical Attack power is doubled.

P-ATK
Sp-ATK
P-DEF
Sp-DEF

Description
Blindfold used by a dancer who stumbled on the innermost secrets of his art when shampoo got in his eyes. Use of the mind's eye makes movement more effective.

P-ATK
Sp-ATK
P-DEF
Sp-DEF
The Covenant description is possibly a reference to a Star Wars quote. Mentor, Obi-Wan is trying to teach the hero, Luke Sykwalker how to use the force. After an unsuccessful attempt at blocking small projectiles, Obi-Wan gives Luke a helmet that obscures his vision, and tells him to "Search out with your feelings."

Community content is available under

CC-BY-SA

unless otherwise noted.