Mini-Tanukis
Shadow Hearts: Covenant
HP
400
MP
159
Element
Light
Weight
Light
Abilities
Pillage Storm
Location
Solomon's Trials
Immunities
Poison

Deadly Poison
Paralysis
Seal
Slow
Instant Death
P-DEF Down
Sp-DEF Down
Evade Down

EXP Gained
0
Cash
0
Souls Gained
0
Item Drops
-
NOTE
-
Enemy in Shadow Hearts: Covenant
Bestiary Entry Edit
Three tanukis stuffed animals. Filled with thousands of squirming maggots, they move along with the wriggling of their wormy inhabitants.
EtymologyEdit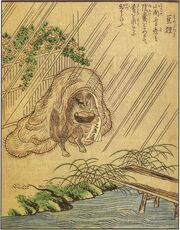 While a real-life creature, the Tanuki - also known as the Japanese Raccoon Dog - often appears in folklore as a type of yōkai, as humourous tricksters.
They can shapeshift, and perform certain kinds of magic, but are most notable for the males having an exaggeratedly massive scrotum, which they use to pull mischievous pranks.