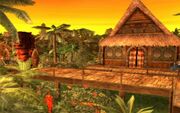 Location in SHFTNW
Ring:


Ring: Fickle
Note: Lolama will only speak to you if you have received the items from the red zone from each previous lottery member.

Mary can be found in the first house in Moana Village. You can recognize her based on her resemblence to Loloma.
In New Game+, she offers keys as her rewards. Her final trade request appears after fighting Tirawa in Garvoy Valley
Mary Trades
Trade #
Cards Wanted
Rewards
New Game+ Reward
Help Me, Mister 1

024 Okeron x02
040 Kerufe x02

045 Daoros
N/A
Help Me, Mister 2

041 Wormy Worm x01
042 Ghatanothoa x01
043 Tindaros x01

Third Key
I Want This 1
049 Cabracan x01
Thera Extract
I Want This 2

051 Harukigenia x05
052 Sulagi x05
053 Ludirus x05

Fifth Key
Mary's Dream 1

026 Petty Gangster x01
049 Cabracan x01
095 Gregor x01

076 Black Bat
N/A
Mary's Dream 2

096 Kareau x05
097 Gresiru x05

142 Ricardo
N/A
A Secret Request
066 Janus x01

010 Tatan'ka
025 La Sirene
102 Tirawa

N/A
Community content is available under
CC-BY-SA
unless otherwise noted.