Mother Filaria
Shadow Hearts: Covenant
HP
900
MP
230
Element
Light
Weight
Heavy
Abilities
Paralysis


Nova
Bright Crime
Cure

Location
Idar Flamme
Immunities
Poison

Deadly Poison
Paralysis
Seal
Petrify
Slow
Instant Death
P-ATK Down
Sp-ATK Down
P-DEF Down
Sp-DEF Down
Evade Down

EXP Gained
3000
Cash
2000
Souls Gained
30
Item Drops
Mana Extract
NOTE
-
Boss Enemy in Shadow Hearts: Covenant
Bestiary Entry
The mother of all the Filaria that live in Idar Flamme. Acting as the castle's aorta, it absorbs a portion of the nutrients to nourish the eggs inside it.
Gallery
Etymology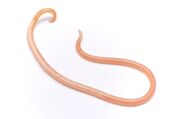 Filaria (Latin, "Filament", "thread") is a subclass of parasitic roundworms. They live inside the various body systems causing damage as they carry out their life-cycle.
Community content is available under
CC-BY-SA
unless otherwise noted.