Mournful Demon
Shadow Hearts
HP
325
MP
200
Element
Light
Stats
P-ATK
65
P-DEF
20
Sp-ATK
50
Sp-DEF
65
AGL
25
LUC
40
Abilities
Exorcist Arrow
Location
Kuihai Tower
Immunities
-
EXP Gained
330
Cash
400
Soul Worth
1
Item Drops
Talisman of Mercy
NOTE
-
Bestiary Info
Edit
Spawned from evil. Malicious ghost of a poisoned doctor. The protrusion in the nether region represents scorn. Brother of Vengeance and Rage Demons.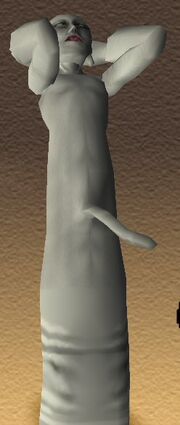 It has high HP, but really low physical defense. This particular demon has a high special defense so don't bother with special skills just keep nailing him with physcial attacks. Will just attack or use Exorcist Arrow.
Community content is available under
CC-BY-SA
unless otherwise noted.