Natto Roll
Shadow Hearts: From the New World
HP
460
MP
89
Element
Water
Height
Abilities
P-DEF Down

Arc Rage

Location
He-Man Sushi House
Immunities
Poison

Deadly Poison
Paralysis
Petrify
Slow
Instant Death
HP Down
Sp-ATK Down
Sp-DEF Down


Calories
0
Cat Coins
1 Mackerel
EXP Gained
1
Cash
1
Souls Gained
1
Item Drops
Mana Root (100%)
Snap Card
NOTE
-
Sushi house foe.
Three brothers came from distant Mito to be sushi chefs in America. On the way, their supplies of bean curd fermented and sealed their fate. Hurry before it goes bad!
Etymology
Edit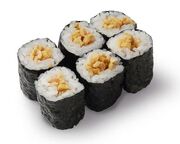 Nattō (納豆) is the Japanese term for fermented soybeans.
The Nattō-maki (納豆巻き) is often seen as an acquired taste because of its powerful smell, strong flavor, and slimy texture - the fermentation process often leaving sticky strings of slime between the beans.
Community content is available under
CC-BY-SA
unless otherwise noted.