Nuckelavee*
Shadow Hearts: Covenant
HP
1610
MP
188
Element
Dark
Weight
Normal
Abilities
Slash

Red Blaze
Blind Ring
Surge
Dark Claw

Location
Nakhásh Temple
Immunities
Poison

Deadly Poison
Paralysis
Seal
Petrify
Slow
Delay
Instant Death
HP Down
P-ATK Down
P-DEF Down
Sp-DEF Down
Evade Down

EXP Gained
0
Cash
0
Souls Gained
0
Item Drops
-
NOTE
-
A faithful watchdog of an evil god.(*)
Creature found only in Nahash Temple, in the Director's cut edition of the game.
Rough Translation:
Faithful watchdog of the false god. Aeons ago, in service to his master, he rebelled against the chief god, and was duly punished; the flesh stripped from his body. With a weakness to fresh water, it lives in the sea, savouring the pain that burns the body in salt water, every day.*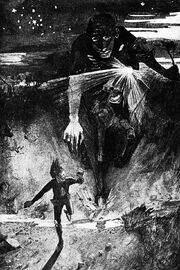 The Nuckelavee is a creature derived from Scottish Isle folklore.
It is described as a malignant sea-dwelling centaur-like creature, without skin, just bare muscle, with sickly yellow veins. It has two heads, as though it were riding the lower half of a horse.
The "horse" head has a single flaming eye, and a gaping maw for a mouth that could spew toxins. The "human" head had a pig-like snout, and a wide, whale-like mouth.
It could spread plague and disease where it trod, and wilt crops. It was vulnerable to fresh water, and could be evaded by escaping over a flowing (fresh water) river.
Community content is available under
CC-BY-SA
unless otherwise noted.