Octopus Sushi
Shadow Hearts: From the New World
HP
570
MP
91
Element
Dark
Height
Abilities
SP Lowering

Shield

Location
He-Man Sushi House
Immunities
Poison

Deadly Poison
Paralysis
Seal
Petrify
Slow
P-ATK Down
Sp-ATK Down
P-DEF Down
Sp-DEF Down
Evade Down
Apathy

Calories
0
Cat Coins
1 Mackerel
EXP Gained
10
Cash
10
Souls Gained
1
Item Drops
Thera Extract (100%)
Snap Card
NOTE
-
Shania's sushi house foe.
The flavour as it sticks to the tongue is superb. Also has secret weapons of ink and feelers lurking somewhere hidden and unseen.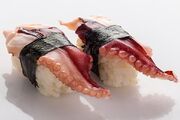 Octopus Sushi's Japanese name, "Sui tsuku tako nigiri" (吸い付くタコ握り), literally means, "octopus sucker sushi".
Community content is available under
CC-BY-SA
unless otherwise noted.