Bestiary Info
Edit
Jellyfish filled with the body fluid of drowning victims. Many of them gather around the harbor at dusk. Makes a sound like nails scratching glass.
They always appear in a group of four, they are really annoying if you only kill one or two, but using a group attack skill and they will all go down at once.
Etymology
Edit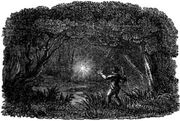 The Japanese name, Onibi (鬼火), is a term for a ghost light, known better in English as a Will-o'-the wisp, or Ignis Fatuus (Fool's Fire), among numerous other regional names.
Now believed to be caused by a chemical reaction of organic decay (which may also be found in marsh or swampland), or simple mistaken identity of fauna and natural bioluminescence - they were, in the past, ascribed to ghosts, devils, spirits and faeries, seeking to mislead travellers off the path to get lost, or possibly drown in the marsh.
Community content is available under
CC-BY-SA
unless otherwise noted.