Orobas
Shadow Hearts: Covenant
HP
7500
MP
860
Element
Non-Elemental
Weight
Heavy
Abilities
Dying *


Hail Crest
Mirage
Euthanasia

Location
Neam Ruins
Immunities
Poison

Deadly Poison
Paralysis
Seal
Petrify
Slow
Delay
Instant Death
HP Down
P-ATK Down
Sp-ATK Down
Sp-DEF Down
Evade Down

EXP Gained
75000
Cash
30000
Souls Gained
300
Item Drops
Crucifix
NOTE
-
Optional Boss Enemy in Shadow Hearts: Covenant found deep in the ruins of Neamto.
NOTE: Can be photographed by Anastasia to obtain the "Euthenasia" move.
Bestiary Entry
Edit
Physically warped himself, he is the lord of warps and distortions. He is the most demonic of all the demons, determined to shatter peace where it exists.
Etymology
Edit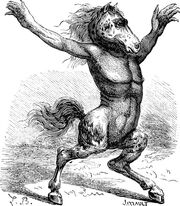 Orobas is a demon found in the works of various occult literature.
He is physically described as resembling a human with equine features.
In the demonic hierarchy, he is said to be a Great Prince of Hell, having twenty legions of demons under his control.
Community content is available under
CC-BY-SA
unless otherwise noted.