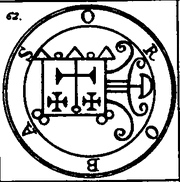 Description
Edit
The devil that arouses humanity's forbidden desires. He can reawaken human souls. Next to his castle is the Bastion of Riches.
Solomon's Key Location
Edit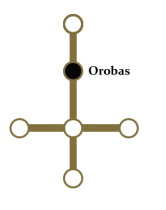 Palace of Transgressions, second node from the top.
Where to find
Edit
Defeat Orobas in Neam Ruins (second visit)
Magic
Name
Base MP Cost
Description
Image
Ring
Pre-Completion
Aqua Resist
32 MP
Increases ally's resistance to Water-element attacks by 50%
Hail Crest
80 MP
Large AOE Water attack with odds of Evasion Down
Post Completion
Heat Resist
32 MP
Increases ally's resistance to Fire-element attacks by 50%
Red Crest
80 MP
Large-area Fire attack (hard hit) with odds of Physical Attack Down
Etymology
Edit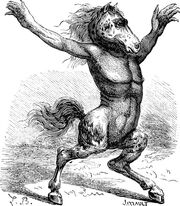 Orobas is a demon found in the works of various occult literature.
He is physically described as resembling a human with equine features.
In the demonic hierarchy, he is said to be a Great Prince of Hell, having twenty legions of demons under his control.
Community content is available under
CC-BY-SA
unless otherwise noted.