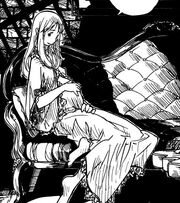 Pacey is a prostitute working in London when Koudelka is brought there. She is pregnant, half because of being unable to pay for an abortion and also because she's felt a hole inside after Joshua and his mother moved away.
She is kidnapped not longer after Koudelka and Joshua's arrival, one of many pregnant prostitutes abducted. Despite the other prostitute's efforts to get Scotland Yard officers to do something about her disappearance, they are merely shrugged off as worry-warts, and so take matters into their own hands.
Eventually, it isn't the officers or the prostitutes who find her, but Dr. Horn who finds her on the street, hemorrhaging, her belly completely flat, crying out for her unborn son.
Her story ends happily. While investigating the Asian man's burning to death, Koudelka, the inspector and Dr. Horn stumble upon the doctor's twin's laboratory which held containers holding living newborns. They manage to get back Pacey's baby, and return him to her unharmed and healthy.
Community content is available under
CC-BY-SA
unless otherwise noted.