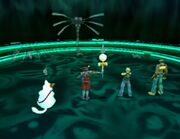 Pit Fights place the player in a series of battles that place limiations on characters and increase the difficulty of the monsters.
Defeating the monsters and completing the trial grants amazing prizes, two of which are required to receive Shania's final fusion. Note that prizes can only be received once, however.
The Pit Fights are also an excellent area to take pictures of the monsters you may have missed during the storyline.
They are to be found in Arkham University, in Professor Gilbert's old office, being run by Howard Lovecraft.
They are first accessable after the events at Roswell, with additional tiers unlocking at various stages relating to the story progression.
UNLOCKED: After the events at Roswell.
Basic Beastology IV
Rounds
Ronwei
Prize

Horse Statue
UNLOCKED: After visiting Rio de Janeiro.
App Beast Med IV
Johnny Only)
Rounds
Thug
Prize

Taurus Stellar Chart
UNLOCKED: After the events at Aito Cave.
Prac Beast Sci III
Rounds
Delget
Prize

Fifth Key
UNLOCKED: After The Gate appears.
UNLOCKED: After completing all character sidequests; He-Man Sushi, Guiana Highlands, the Cat Pagoda, Doll House and the Ninja Hideaway.
UNLOCKED: After completing all the previous Pit Fights.
Community content is available under
CC-BY-SA
unless otherwise noted.