Pollux
Shadow Hearts: Covenant
HP
275
MP
100
Element
Water
Weight
Normal
Abilities
Splash
Location
Paris Underground
Immunities
Poison

Deadly Poison
Paralysis
Seal
Petrify
Delay
Instant Death
HP Down
P-ATK Down
Sp-ATK Down
P-DEF Down
HP Down

EXP Gained
75
Cash
550
Souls Gained
25
Item Drops
Lottery Ticket

NOTE
-
Bestiary Entry
Edit
One of the twin demons that serve Veronica. Said to have been born from a giant's pus-filled eye, its body is covered with ice blades that reflect its cruel mood.
Etymology
Edit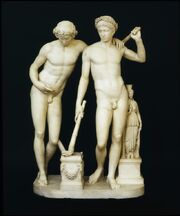 Castor and Pollux were twin brothers and demigods in Greek and Roman mythology, known together as the Dioscuri.
Their mother was the Goddess Leda, but they had different fathers; Castor was the mortal son of Tyndareus, the king of Sparta, while Pollux was the divine, immortal son of Zeus, who seduced Leda in the guise of a swan.
Though accounts of their birth are varied, they are sometimes said to have been born from an egg.
When Castor was fatally wounded, Pollux called on Zeus to allow him to share his immortality with his fallen brother. Zeus agreed, and placed the brothers into the heavens, as the constellation of Gemini.
Community content is available under
CC-BY-SA
unless otherwise noted.