Poor Man's Curry
Shadow Hearts: Covenant
HP
1120
MP
50
Element
Dark
Weight
Light
Abilities
-
Location
Man Festival
Immunities
Poison

Deadly Poison
Paralysis
Seal
Petrify
Slow
Delay
Instant Death
HP Down
P-ATK Down
Sp-ATK Down
P-DEF Down
Sp-DEF Down
Evade Down

EXP Gained
10
Cash
10
Souls Gained
10
Item Drops
Thera Extract
NOTE
-
Curryman fought during the Man Festival
Bestiary Info
Edit
Having grown up poor, this warrior is rather tightfisted with his use of ingredients. Some call him stingy, but he sees thriftiness as a virtue.
Appearances outside Shadow Hearts
Edit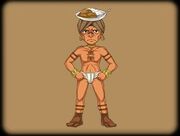 Poot Man's Curry has also appeared in Chaos Wars, and is fought as one of the many cross-over enemies from the Shadow Hearts series.
Entry
An Indian fighter who has a plate of curry on his head. His meager curry contains no meat or veggies and he lives in hate of the Bourgeoisie. His only luxury is having a few croutons on the top on his curry.
Community content is available under
CC-BY-SA
unless otherwise noted.