Enemy in Shadow Hearts: Covenant
Bestiary Entry
Edit
Tree spirit formed from hardened sap. It continues to ooze nutrient-rich sap as it plods along. So wherever it walks, flowers bloom the following year.
Etymology
Edit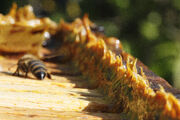 Propolis is the name given to a type of resinous mixture created by honey bees, using a mixture of their saliva, beeswax, and sap, or other plant matter.
Bees use it for many purposes in the hives; among them sealing small gaps and covering putrifying matter in a thin layer to isolate it from the rest of the hive.
Community content is available under
CC-BY-SA
unless otherwise noted.