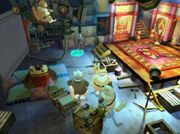 Cat studio in Hollywood run by Meowcus the director. It serves as the location for all of Mao's pagoda fights.
The fights require a certain number of Cat Coins to progressively unlock - and if Mao loses a fight she loses her initial investment of coins, and so needs to collect more. Winning the fight will allow her to start moving towards the next tier.
The name is a not-very-subtle pun on Paramount Pictures.
Assuming no losses, the minimum total of Cat Coins required for the Pagoda fight is; 20 Mackerel, 30 Octopus, 35 Scallop, 25 Shrimp, and 25 Bream - 135 in total.
Community content is available under
CC-BY-SA
unless otherwise noted.