Raijin
Shadow Hearts: Covenant
HP
3780
MP
620
Element
Earth
Weight
Normal
Abilities
P-DEF Down


Lightning Flash

Location
The Vessel
Immunities
Poison

Deadly Poison
Paralysis
Seal
Petrify
Slow
Delay
Instant Death
HP Down
P-ATK Down
Sp-ATK Down
P-DEF Down
Sp-DEF Down


EXP Gained
65000
Cash
26000
Souls Gained
300
Item Drops
P-DEF Down 4
NOTE
-
Raiden infused with the power of the Thunder God.
Raiden possessed by the divine power of the god of thunder. With the pure power of lightning at his command, the Earth shakes at his approach.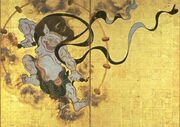 Raijin (雷神) is the Shinto god of thunder, lightning, and storms.
He is often depicted as a ogre-like demon, wearing a leopard skin loincloth or tunic, and carrying a large circle of drums on his shoulders - representing the sound of thunder.
He is often partnered with the god of winds, Fuujin.
Community content is available under
CC-BY-SA
unless otherwise noted.