Revenant
Shadow Hearts: Covenant
HP
17
MP
0
Element
Dark
Weight
Light
Abilities
-
Location
Apoina Tower
Immunities
Paralysis


Seal
Instant Death

EXP Gained
1
Cash
0
Souls Gained
0
Item Drops
Thera Leaf
NOTE
-
Enemy in Shadow Hearts: Covenant
Bestiary Entry
Edit
Undead creature haunted by its own regrets. Small bits of rotten flesh still cling to its skeleton. It despises all living things and attacks randomly.
Etymology
Edit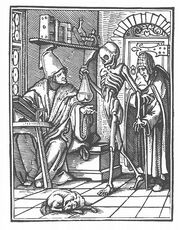 A revenant is a visible ghost or animated corpse that is believed to have revived from death to haunt the living.
It is derived from the Latin word reveniens, meaning "to return".
Community content is available under
CC-BY-SA
unless otherwise noted.