Rice Ball
Shadow Hearts: From the New World
HP
570
MP
91
Element
Fire
Height
Abilities
Slow

Gale

Location
He-Man Sushi House
Immunities
Poison

Deadly Poison
Paralysis
Seal
Instant Death
HP Down
P-ATK Down
Sp-ATK Down
P-DEF Down
Sp-DEF Down
Apathy

Calories
0
Cat Coins
1 Mackerel
EXP Gained
10
Cash
10
Souls Gained
1
Item Drops
Mana Extract (100%)
Snap Card
NOTE
-
Ricardo's sushi house foe.
Nothing fishy about this one. Just a hint of salt. Delicate, but sensitive to people's pain. Spend days-off at home with his mom. A down-to-earth dish.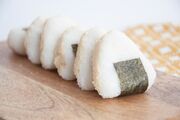 The Rice Ball's Japanese name, "Magaimono no tawara onigiri" (紛い物の俵お握り), "Bamboo grass rice ball", is a type of rice infused with bamboo juice.
Community content is available under
CC-BY-SA
unless otherwise noted.