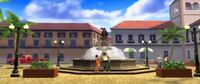 An area visited in Shadow Hearts: From the New World.
After defeat, Shania is given the Kiss of Malice from Lady. Later on, Johnny returns home and asks help from Al Capone, knowing nothing of what happened to Shania. Al lends them his plane so they can go to Rio De Janeiro and find Lady. The team splits and you are given the task to find clues. In the newspaper publishing building Shania notices a picture of Lady on Macchu Picchu and asks the Publisher. Johnny notices Shania's rather different change of attitude.
After The Gate can be visited, the He-Man Sushi resturant becomes accessable.

Ring: Fickle Ring


No.01 Lottery Association Chairperson, Keith (Silver Bat)
[
edit
|
edit source
]
Ring: Fickle Ring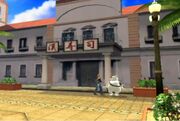 Hilda finds a silver vampire, for those who have played previous titles you may know who this is, who has been fed wasabi. She says she will get tea inside the Sushi House, to which Johnny said she should have just bought from the market. The gang faces Sushi mobs, sooner Hilda will face the Shrimp Sushi to which she will get fatter. There is a save point after that. After this each player will fight one sushi each. At the end of this you will fight The Great Q.
After Finishing Sushi House, play Wheel with Keith after playing with other members for Hilda's Ultimate Armor.
You will meet the Kunoichi from recent adventures here, she will tell you of a place in Brazil.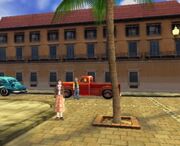 Pissarrio is probably one of the easiest traders to find if you're looking. This fellow is sitting in the big red truck in Rio de Janiero.
His rewards range from Accessories to more Snap Cards.
His "Special Request, Bro" Trade is unlocked after catching the first five UMAs.
Pissarrio Trades
Trade #
Cards Wanted
Rewards
New Game+ Reward
No Greetings Necessary 1
022 Bablovia x03
040 Kerufe
N/A
No Greetings Necessary 2
032 Eliops x03
Mind's Eye
N/A
Please Find It! 1

037 Xi Dazun x02
038 Xantak x02
039 Wariche x02

Devil Straw
N/A
Please Find It! 2

044 Woworito x03
050 Delget x03

Daphne Fruit
Trade Me a Strange Snap

128 The Meowmenator x03
129 Sammo Meow x03
130 Cat Morita x03

N/A
Special Request, Bro

033 Jig Ruta x02
034 Guanna x02

070 Sasquatch
071 Tihozhodhi
072 Chupakabra
073 Rogotomhere
074 Sky Fish

N/A
I'll Do Anything for These

011 Petty Mafioso x02
013 Prison Guard x02
081 Eel Sushi x02
132 Bruce Meow x02

137 Frank
N/A
Community content is available under
CC-BY-SA
unless otherwise noted.