The house that Roger built in the grounds of the ruined abbey. It is uses highly advanced technology and looks almost like an alien spaceship. It is only accessible in Shadow Hearts and Shadow Hearts: Covenant.
Following the events of Koudelka, Roger built a new home, not too far from the ruins of monastery, both allowing him to watch over the site, and experiment with various technologies in peace.
By the time of meeting Yuri, he'd managed to develop a teleportation device powered by a treadmill, and a space-age vending machine.
Light Gravestone - Examine the ground near the bookshelf to the right of Continental Zero.

Ring: Normal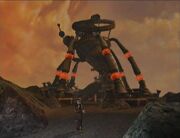 Bosses

Name

Notes

Lenny Curtis

Fought alongside two Clawed Commanders.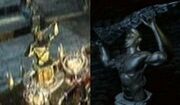 As an easter egg reference to Koudelka, the rotating statue in Roger's house, next to the treadmill, is actually a smaller version of the Sacnoth statue, as it was found in the monastary courtyard, holding the most powerful sword in the game.
A new house for Roger, based in America, was due to feature in Shadow Hearts: From the New World, but was later scrapped.
Community content is available under
CC-BY-SA
unless otherwise noted.