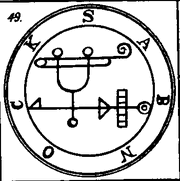 Description
Edit
A warrior's ghost in rusted armour. Wounds caused by his claws turn rotten and fatal. He hangs all his prionsers by the neck.
Where to find
Edit
Solomon's Trials prize
Solomon's Key Location
Edit

Wilderness of War, bottom row, far-right node.
Magic
Name
Base MP Cost
Description
Image
Ring
Pre-Completion
Arc Shield
35 MP
Increases Physical Defense for all allies
Post Completion
Rock Storm
32 MP
Medium area Earth attack (hard hit)
Etymology
Edit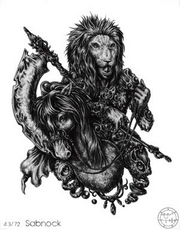 Sabnoc is a mighty Great Marquis of Hell, who has 50 legions of demons under his command.
He builds high towers, castles and cities, furnishing them with weapons, ammunition, etc., gives good familiars, and can afflict men for several days making their wounds and sores gangrenous or filling them with worms.
Sabnock is depicted as a soldier with armor and weapons, the head of a lion, and riding a pale horse.
Community content is available under
CC-BY-SA
unless otherwise noted.