Salmon Sushi
Shadow Hearts: From the New World
HP
570
MP
91
Element
Wind
Height
Abilities
Instant Death

Barrier

Location
He-Man Sushi House
Immunities
Poison

Deadly Poison
Paralysis
Seal
Slow
Instant Death
HP Down
P-ATK Down
Sp-ATK Down
Evade Down
Apathy

Calories
0
Cat Coins
1 Mackerel
EXP Gained
10
Cash
10
Souls Gained
1
Item Drops
Mana Extract (100%)
Snap Card
NOTE
-
Natan's sushi house foe.
Natan tells the party to move on as he takes care of this foe. The Salmon Sushi complains about it's saltiness eventhough Natan says that it is good for the body.
Sushi made with fresh salmon straight from Canada. Has a red face -- perhaps due to the wine in the vinegar. Instead of smelling fishy, it tastes rather winey.
Etymology
Edit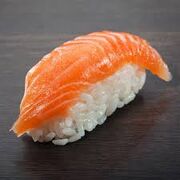 Salmon Sushi's Japanese name, Dai shizen no sake nigiri (大自然のサケ握り) - "Natural Salmon sushi" indicates the dish's base is wild salmon, rather than farmed salmon.
Community content is available under
CC-BY-SA
unless otherwise noted.