Sea Gremlin
Shadow Hearts
HP
70
MP
200
Element
Wind
Stats
P-ATK
77
P-DEF
40
Sp-ATK
40
Sp-DEF
30
AGL
20
LUC
24
Abilities
Lightning
Location
Temple Ruins
Immunities
-
EXP Gained
155
Cash
414
Soul Worth
1
Item Drops
Mana Seed
NOTE
-
Bestiary Info
Edit
Malicious spirit of a man who drowned on land and transformed. It drips oil from its body and makes its prey slip.
Etymology
Edit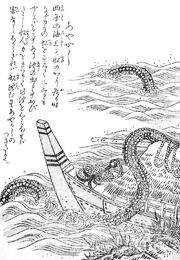 The Japanese name, Ayakashi (あやかし) is a type of yōkai which is said to appear as ghost lights on the surface of the sea.
In certain folklore, they are said to be the spirits of those who drowned at sea, trying to lure sailors to a similar watery grave.
Community content is available under
CC-BY-SA
unless otherwise noted.