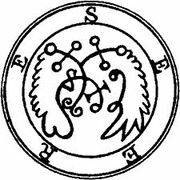 Description
Edit
A beautiful, blond, blue-eyed demon. He has great curiosity, and every day, with his 3 attendants, he studies the Spring of Wisdom.
Where to find
Edit
Behind a pillar in Gerome Valley, fulfills the second treasure-hunting sidequest
Solomon's Key Location
Edit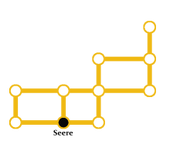 Bastion of Riches, bottom row, centre node.
Magic
Name
Base MP Cost
Description
Image
Ring
Pre-Completion
Gale Spin
16 MP
Small-area Wind attack (high angle)
Gale Spark
32 MP
Medium-linear Wind attack (high angle)
Post Completion
Air Resist
32 MP
Increases ally's resistance to Wind-element attacks by 50%
Gale Spike
64 MP
Medium area Wind attack (high angle)
Etymology
Edit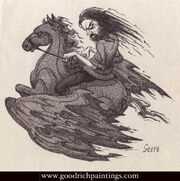 Seere is a Prince of Hell with 26 legions of demons under his command.
He can go to any place on earth in a matter of seconds to accomplish the will of the conjurer, bring abundance, help in finding hidden treasures or in robbery, and is not a demon of evil but good nature, being mostly indifferent to evilness.
He is depicted as a man riding a winged horse, and is said to be beautiful.
Community content is available under
CC-BY-SA
unless otherwise noted.