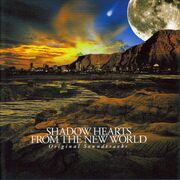 Track Listing
Edit
Disc Two (73:45)
Edit
Performance Credits
Edit
Vocals - Solo: Takehara Tomoaki (2-26), Akiko Shikata (1-11)
Vocals - Chorus: Ikuko (1-1, 1-3), Akiko Shikata (1-1 ~ 1-3, 1-10, 1-20, 1-31, 2-14, 2-22, 2-23, 2-28)
Violin & Electric Violin: Akihisa Tsuboy (1-1, 1-3, 2-1, 2-6)
Acoustic & Electric Guitar: Yoshiaki Watanuki (1-1, 1-3, 2-1, 2-26)
Acoustic Guitar: Kunio Iwai (1-22, 1-35)
Drums: Katsuya Takahashi
Percussion: Genta Kudoh
Other Instruments: Yoshitaka Hirota - Inc. Piano, Electric Guitar
Unreleased Tracks
Edit
While some of Shadow Hearts: Covenant's previously unreleased music found its way to Shadow Hearts Special Sounds CD, Shadow Hearts: From the New World has several tracks that are only heard in game, and have never been previously available before.
These are;
In addition, there are also the 16 snippets that accompany Ricardo Gomez's Serenatas.
Community content is available under
CC-BY-SA
unless otherwise noted.