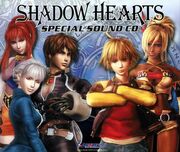 Shadow Hearts: Special Arrangements is a CD released with the Premium boxset of Shadow Hearts: From the New World.
It features unreleased tracks from the third series, as well as remixes from the other games.
It's all composed and arranged by Yoshitaka Hirota, music director for Shadow Hearts, Shadow Hearts: Covenant, and Shadow Hearts: From the New World.
Along with the musical tracks, several of the latter tracks are character's winning lines from both Covenant and From the New World.
Track Listing
Edit
Victory Lines
Edit
Yuri
Karin
Blanca
Gepetto
Joachim
Golden Bat
Invisible
Grand Papillon
Lucia
Anastasia
Kurando
Nicolai
Veronica
Lenny
Hien
Raiden
Ouka
Johnny
Shania
Natan
Ricardo
Frank
Mao
Pink Bat
Slim Hilda
Curvy Hilda
Community content is available under
CC-BY-SA
unless otherwise noted.