Shoki
Shadow Hearts: Covenant
HP
4550
MP
455
Element
Light
Weight
Heavy
Abilities
Instant Death


Bright Crest
Meteor Fall

Location
Nihonbashi
Immunities
Poison

Deadly Poison
Paralysis
Seal
Petrify
Delay
Instant Death
HP Down
P-ATK Down
P-DEF Down
Sp-DEF Down
Evade Down

EXP Gained
26000
Cash
34000
Souls Gained
230
Item Drops
Judgement
NOTE
-
Enemy in Shadow Hearts: Covenant
Bestiary Entry
Edit
Dog transformed by the soul force of Astaroth. Overflowing with demonic power, its fires energy beams, teleports and can create an infinite supply of Koshoki.
Etymology
Edit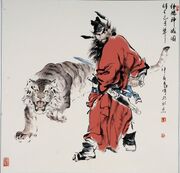 Shoki is the Japanese name of Zhong Kui (鍾馗) - The Demon Queller - a figure from Chinese myth, regarded as a vanquisher of demons, ghosts and other evil beings.
He commanded 80,000 demons, all of whom he had personally subjugated. He is often depicted as a wild-looking bearded man, wearing a scarlet robe, and wielding a sword and a fan.
In addition, as with the rest of the creations of the Japanese army, Shoki shares a name with a WWII military vehicle; the Nakajima Ki-44 "Shōki" fighter plane.
Community content is available under
CC-BY-SA
unless otherwise noted.