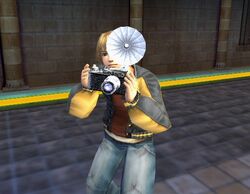 Snap Cards are trading cards in Shadow Hearts: From the New World.
Johnny can use his "Snap" ability on an enemy to obtain a single Snap Card of that enemy, and may take multiple snaps of the same enemy to increase the number of Snap Cards.
He can eventually receive the Panoramic Lens, which allows for a single Snap to obtain all the enemies' cards, as opposed to snapping each enemy individually (including multiples of the same enemy if there is more than one in battle).
Some Cards can only be obtained upon trading, while others are limited, and can potentially be missed in a single playthrough, though can be obtained later on New Game+.
There are 142 Snap Cards in total, but upon obtaining 115 Snap Cards of individual enemies, Purgatory, an optional dungeon, becomes unlocked.
Click on the card's picture to expand
Snap Cards
























































































































♦ NOTE: Due to the nature of the Envious Jealousy boss, there are six mutually exclusive variations, only one of which is obtainable at any given time.
For a large view of the cards, visit the gallery.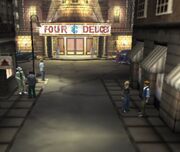 Masatoshi introduced you into the world of Snap Card trading.
His rewards in the game are invaluable, but towards the end of New Game+, his rewards become exceptional with a Seventh Key or an Eternal Key as prize.
Masatoshi Trades
Mana Extract
Cure Stellar
Pure Extract
Demon Earrings
Resurrection Stellar
Seventh Key
Eternal Key (if obtained every card)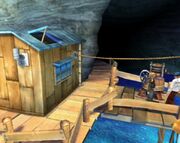 Samuel's requests offer some great trading cards as rewards.
He can be found in the Caribbean, standing near the kitchen.
Samuel Trades
Aquarius Stellar Chart
Daphne Fruit
Pirate Earrings

Pissarrio is probably one of the easiest traders to find if you're looking. This fellow is sitting in the big red truck in Rio de Janiero.

His rewards range from Accessories to more Snap Cards.

His "Special Request, Bro" Trade is unlocked after catching the first five UMAs.

Pissarrio Trades
Mind's Eye
Devil Straw
Daphne Fruit

Mary can be found in the first house in Moana Village. You can recognize her based on her resemblence to Loloma.

In New Game+, she offers keys as her rewards. Her final trade request appears after fighting Tirawa in Garvoy Valley

Mary Trades

Louie is unlocked after going to the Gate, and can be found in Harlem. He's easy to recognize since he's playing the cello.

Ricardo's Ultimate Weapon and an accessory for Mao can be obtained from him.

Trade #5 is unlocked after completing the Sushi House, and Trade #6 appears after the Ninja Master Test.

Louie Trades
Cat Rush
Diosa
CC-BY-SA

unless otherwise noted.