Soldes
Shadow Hearts: From the New World
HP
312
MP
102
Element
Fire
Height
Abilities
Ring Abnormality

Red Gravity

Location
Guiana Highlands
Immunities
Poison

Deadly Poison
Paralysis
Seal
Petrify
Slow
HP Down
P-ATK Down
Sp-ATK Down
P-DEF Down
Sp-DEF Down
Evade Down


Calories
-3
Cat Coins
2 Bream
EXP Gained
2220
Cash
300
Souls Gained
2
Item Drops
Pure Extract (3%)
Snap Card
NOTE
-
Enemy in Shadow Heart from the new world.
A winged dragon with two heads combined fearsomely in battle. It can eat with both its mouths and its favourite food is hare meat.
Etymology
Edit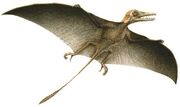 Soldes is a slight minsromanisation of Sordes; the name of a species of pterosaur that lived more than one hundred and fifty million years ago.
Community content is available under
CC-BY-SA
unless otherwise noted.