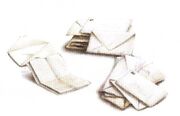 Letters written from Sophia D'Lota to her daughter Charlotte, which were never recieved.
My dearest Daughter, Charlotte
As I sit in silence struggling to write this letter to you in English, I sense the arrival of winter is near at Arden Castle.
I feel it makes me a bad mother since I am unable to make you happy.
I cannot lament enough how my selfish affair has entangled so many people, including you, my dear, who were sent to Wales to encounter many sorrowful experiences.
I probably will never see you, nor your brother nor your sister again. But one thing that will not change is that you are my beloved daughter.
You are the daughter of the man whom I loved from the bottom of my heart, Phillip Christopher.
I am sure you must resemble him greatly. You were blessed when you were born, and that you are still alive is testament to that fact.
I often wonder what the color of your eyes is, and how it would feel to run my hands through your hair.
I can't help but to dream about the day I meet you, although deep down inside I know that day will never come.
We might be far away from distance, but we are always together in my heart.
Please take good care of yourself.
Your mother,
Sophia D'Lota
My dearest Daughter Charlotte
Five summers have already passed since you entered this world. I think I must have written over 20 letters now. Despite my poor penmanship, how happy it makes me to know that my feelings are being conveyed to you.
I wonder what I should tell you today. I think I will talk about your father. Your father, Phillip Christopher, is a son of Count Von Koenismark, Sweden's Artillery Inspector General. Your father was a childhood friend of mine, and I am the daughter of a Duke.
Unfortunately, Phillip and I eventually had to part. Due to the inevitable circumstances of our country, an arrangement was made so that I was to marry and be queen to Count Hannover and spend days filled with hardship. It was your father who came into my life again and saved me.
Your father and I spent many years loving each other. It's a fact that I fell in love with somebody, although I was already married. Some would that a secretive affair, but our love is genuine and pure, especially when compared with the marriage arrangement with Count Hannover which was stained with politics and power.
Please forgive your foolish mother.
Your mother,
Sophia D'Lota
My dearest Daughter Charlotte
Please allow me to celebrate your 12th birthday with you. May God's blessings and grace be with you.
What would you like for your birthday ?
Would you like a raspberry cake ?
I should like to get you a beautiful dress along with a golden hair ornament and brooch. I want to braid happiness into each loop of your hair.
Then you could dance in the Court like a precious jewel.
My dear Charlotte, are you well ?
I hope you haven't become sick.
I only wish to make you happy even if I have to sacrifice my own life.
Is that a wish that cannot be granted ?
I would like very much to get to know you. Even if it's only a glance, I want to see how you've grown up.
There isn't a day that goes by that I do not pray for your well-being
I try not to lament, but...
I love you from the bottom of my heart.

Your mother,
Sophia D'Lota
Community content is available under
CC-BY-SA
unless otherwise noted.