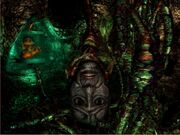 A creature that can be found in the
Altar of Darkness
, hidden in the
Underground Passage
. It has no offical name.
It once was a man who was hired by Patrick Heyworth for some unspecified reason (most likely to do with Patrick's experiments) who then was turned in this creature, presumably for his research. Why he bricked it up behind a wall is unknown.
It alone of Patrick's experiments has retained sapience and a sense of self, while the rest have devolved into feral beasts. Though it does speak with frequent pauses and with seeming difficulty. It's appearance is heavily distorted and warped - the head itself is upside down - and the "body" of the creature heavily resembles plant matter and is unrecognisable as a human body.
Despite the fact that the creature is stationary, it is very knowledgeable about the Monastery, its history, and the people and ghosts that inhabit it. Including Roger Bacon, who had been sleeping for over a century in a locked room.
It presumably perished when Koudelka, Edward and James burnt down the Monastery.
Gameplay-wise, it soley exists to offer hints to the player if they are stuck. There are sixteen different hints that it will give: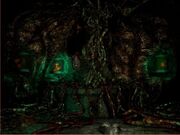 Patrick...how could you do this to me?
Pipe organ...move...go below...
The graveyard...St. Daniel's grave...and the grave of the girl...
Vigna and Valna...just want their dolls...
If you want acid...get empty bottle...Patrick's laboratory...
Daniel's arm...holy strength...
Where is the pendant you dropped?
If you have the research diary...the Emigre Document...Roger.
If you go...fourth, floor...hidden...sacred...
I just worked here...Patrick...hired...me...
The pair of dolls...the woman turns her back to him...
If you sound the disc...the last of Patrick's experiments...
They can be seen only in the dark...hidden doors...hidden books...
Soon..you will meet them soon...
That woman..wrote many letters for children...but never delivered...
Nothing is ever mentioned of the creature by any of the characters, probably because it has no influence on the plot and is an entirely optional encounter.
Community content is available under
CC-BY-SA
unless otherwise noted.