The Third Key is an item that allows for the user to spin their Judgment Ring up to 3 times, if the actions are successful. This is a great way to combo an enemy and rack up some damage points.
A magical weapon Elroy gave a vassal during the 20 Days War of the Gods. If an action is successful, can get up to 3 sweeps of indicator on Judgment Ring.
Found: Kuihai Tower
Drops: N/A
Purchase: Prague's Secret Shop
Buy: 30000
Sell: 15000

Given by the gods to a human hero who was fighting a holy war. As long as the action is successful, the ring can be spun up to three times.
Found: Lottery No. 14, Mirror Castle, Idar Flamme, Trading Quest, Solomon's Trial
Drops: N/A
Purchase: Petrograd (end of game)
Buy: 30000
Sell: 15000
Shadow Hearts: From the New World
[
edit
|
edit source
]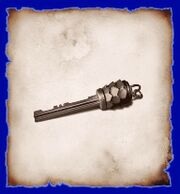 A sacred key bestowed upon the Hero Rakilas after his mighty deeds in a past holy war. The Ring may be spun again up to 3 times after a successful action.
Found: Lottery No. 12] (NG+), Grand Canyon, Chicago, Lottery No. 11, Pirate Interrogation, Mary's List: Help Me Mister 2 (NG+), Ninja Hideaway
Drops: Malice Gilbert (Bonus), Envious Jealousy (Bonus)
Purchase: Purgatory
Buy: 30000
Sell: 15000
Community content is available under
CC-BY-SA
unless otherwise noted.