Tindalos
Shadow Hearts
HP
2000
MP
680
Element
Fire
Stats
P-ATK
165
P-DEF
42
Sp-ATK
73
Sp-DEF
44
AGL
34
LUC
31
Abilities
Death Touch


Flame Breath


Location
Bistritz
Immunities
-
EXP Gained
8000
Cash
12000
Soul Worth
5 Fire
Item Drops
Iron Clogs
NOTE
-
Kevin's transformed shape. His flesh hangs down like a curtain and spreads a horrible stench.
Yee-ikes! Let's play around with our new character, Keith! You can use his rituals if you'd like, but his physical attacks are efficient enough here. Alice is, of course, on healing duty.
If you wind up in an emergency situation(you will, trust me), the guys have means of healing themselves without items. For the most part, just attack with Keith and fire off Zhuzhen's most powerful skill. Even with these powerful hits, the battle will drag on a bit, so watch Alice's (and maybe Zhuzhen's) SP.
Etymology
Edit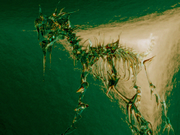 Tindalos is a reference to the creatures from "The Hounds of Tindalos", a short horror story by Frank Belknap Long - which would later be incorporated into the Cthulhu Mythos - the shared fictional universe of works by H.P Lovecraft, and his contemporaries.
Tindalos itself is an ambiguous name (never clarified as an entity or location), however the "Hounds" of Tindalos are creatures that inhabit the distant past, and exist outside of known time and dimension. In an abstract manner, while humanity and life descended from "curves", the Hounds come from sharp "angles", and hunt something from "curve derived" life. They can only enter this reality through sharp angles, and can be warded off by curved surfaces.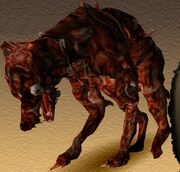 Despite the name, they are only-like in their habit of pursuing things across time and dimesions, rather than anything physically resembling a canine - instead their description is vague and abstract - possibly lacking even a physical body, though there is mention of their heavy breathing and a tongue.
The name later appears in Shadow Hearts: From the New World, where it is used for another dog-like enemy, although it is slightly mistranslated as Tindaros.
Community content is available under
CC-BY-SA
unless otherwise noted.