A man in Cannes by the name of Loud Croft wants to engage people on a treasure chest. He gives out encrypted clues in the hopes that someone will find the treasures.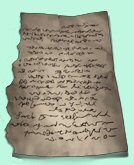 Given by Croft upon initiating the Treasure Hunt.
In the building with the row of cells,
 
is a thick chain connected to a huge dog.
 
At the end of the chain is hidden an important treasure.


Check Oscar's chains on St. Marguerite Island.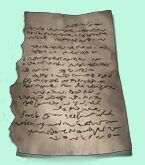 After finishing Treasure: Dawn, speak with Croft.
Tesnuslufituaeubadnasesuohenotssahtahtnw

otehtfoweivasierehterehwrallipehtdniheb.

Hint: Look back.

The text is back to front, so when flipped it reads:
Behind the pillar where there is a view of the town
that has stone houses and a beautiful sunset.

In Gerome Valley, check the outer ledge, left pillar.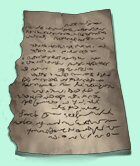 After finishing Treasure: Love, speak with Croft.
I inerp  th  kohiauohioha
ncn  s tp.etpefelrnrannel
 a twhiho chot  iyimng  l
abohainerCkec tmt f g tw.

Starting from the top left letter, and working your way down:
In a cabin on the warship in the port.
Check the pocket of the military uniform
hanging on the wall.

So check the uniform in the small cabin on the Battleship Mikasa.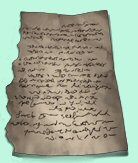 After finishing Treasure: Sneak, speak with Croft in Yokohama.
Return to the fork,

In the entangled forest,

Where the wind blows,

It is there before you.

Go to the Forest of Wind and check the junction of the main path and the side path.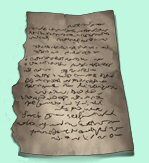 After finishing Treasure: Roamer, speak with Croft in Yokohama.
What do the following have in common?
Find the answer and find the treasure.

1. Garden 2. Next to Rock 3. Pond

At the Imperial Capital, Mukyo-An. Check the stone by Naniwa's pond.
Community content is available under
CC-BY-SA
unless otherwise noted.