Veles
Shadow Hearts: Covenant
HP
600
MP
260
Element
Dark
Weight
Normal
Abilities
Sp-DEF Down

Surge
Dark Claw

Location
The Graveyard
Immunities
Poison

Deadly Poison
Paralysis
Seal
Petrify
Slow
Delay
Instant Death
HP Down
P-ATK Down
Sp-ATK Down
P-DEF Down
Sp-DEF Down


EXP Gained
0
Cash
0
Souls Gained
0
Item Drops
-
NOTE
Unlocks Somnion


fusion for Yuri.
Fusion boss needed to acquire the third-tier fusion of Dark.
Bestiary Entry
Born from the unclean darkness that breeds ill will, this evil spirit resides in the Mental Realm and steals the Harmonixer's reason.
Etymology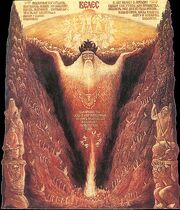 Veles is named after the Slavic god of the underworld, following the pattern of the other thrid-tier fusion bosses being named after Slavic deities.
Community content is available under
CC-BY-SA
unless otherwise noted.