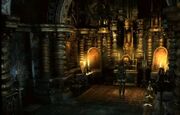 Small area which leads to the chapel.
There are enemies here: Mars which has scrolls and other enemies. In the place, room has 2 vestries. 1st Vestry: Replacing dolls and 2nd Vestry: To the left - Going to Sanctuary. To the right - Leads to the Right chapel. There is a weapon "Lifedrinker". You can battle with enemies to use a weapon "Rod" and to the straight is leading to the main chapel where is a boss "Apostle". Koudelka can use with magic "Flare" level 3 or "Fire Scroll" it damages to high for Apostle.
Community content is available under
CC-BY-SA
unless otherwise noted.