Werewolf
Koudelka
Level
5
HP
289
MP
6
Element
-
-
Null
-
-
-
Stats
STR
10
VIT
17
DEX
10
INT
9
PIE
8
MND
9
AGL
13
LUC
12
Evade
50
Magic Evade
50
Abilities
Scratch


Scratch Combo
Bite
Fortify AP

Drops
Flare Spell
NOTE
-
"Creature that attacked Koudelka and almost killed Edward. Completely lacking in any humanity, it is a crazed feral beast. But what manner of beast is it? And why does it stalk the halls of the Monastery?"
Appearance
Edit
Though it has a semi-human face (albeit one with crazed animal features) it appears to be a combination of not just a man and a wolf, but also an insect, with a long trailing wasp-like abdomen for a "tail".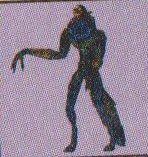 As it is the first enemy of the game, it is pitifully easy; just try to keep your distance and shoot it at a distance with your new gun. If you get too close, it will hit for a piddling amount of damage.
Etymology
Edit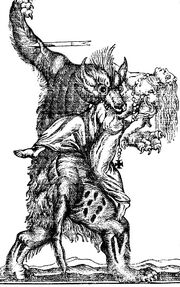 A werewolf is a human who can transform into a wolf, typically on the night of a full moon. There have been legends of humans assuming animal forms since ancient times, having been recorded in ancient Greece and in Native American tales. It's a shared, collective global myth.
The word itself comes comes from the Norse language, and means either "Man Wolf", or "Wearer of wolfskin". The second meaning refering to Berserkers who would don animal's fur and attack their enemies until either they or their enemies were killed.
Community content is available under
CC-BY-SA
unless otherwise noted.