Wight
Koudelka
Level
10~30
HP
361~1369
MP
16~36
Element
-
-
-
-
-
Absorbs
Stats
STR
14~24
VIT
19~37
DEX
12~23
INT
11~20
PIE
13~19
MND
13~19
AGL
12~23
LUC
8~12
Evade
50
Magic Evade
50
Abilities
Drops

Bread
Cheese
Dried Food
Potion
High Potion
Roman Nuts
Listel
High Listel
Antidote
Panacea
Whiskey
Pistol Rounds


NOTE
-
Koudelka
Level
20
HP
784
MP
25
Element
-
-
-
-
1/2 DMG
Absorbs
Stats
STR
19
VIT
28
DEX
17
INT
15
PIE
16
MND
12
AGL
17
LUC
10
Evade
50
Magic Evade
50
Abilities
Drops

Bread
Cheese
Dried Food
Potion
High Potion
Roman Nuts
Listel
High Listel
Antidote
Panacea
Whiskey
Pistol Rounds
Rifle Rounds
Shotgun Shells
Arrows


NOTE
-
Koudelka
Level
25~30
HP
1024~1369
MP
28~36
Element
Weak
-
-
Nulls
-
Absorbs
Stats
STR
22~24
VIT
32~37
DEX
20~23
INT
18~20
PIE
17~19
MND
15~17
AGL
20~23
LUC
11~12
Evade
50
Magic Evade
50
Abilities
Drops

Bread
Cheese
Dried Food
Potion
High Potion
Roman Nuts
Listel
High Listel
Antidote
Panacea
Whiskey
Pistol Rounds
Rifle Rounds
Shotgun Shells
Arrows


NOTE
-
Description
Edit
The reanimated flesh of a dead woman; it seeks only to consume the living to sustain its disintegrating shell of a body."
NOTE: Enemies in Koudelka are fought on specific screens.
Etymology
Edit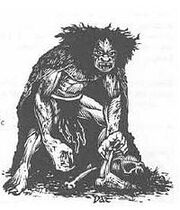 Originally a term used to describe any ordinary human being, it later found later use as a catch-all term for any variety of undead humanoid creatures.
They range from being simplistic zombie-like creatures, to powerful magic-wielding liches retaining all of the memories of their previous existence.
Community content is available under
CC-BY-SA
unless otherwise noted.