Wind Shear
Shadow Hearts
HP
10
MP
100
Element
Wind
Stats
P-ATK
23
P-DEF
12
Sp-ATK
12
Sp-DEF
2
AGL
9
LUC
9
Abilities
Wind Shear
Location
Trans-Siberian Express
Immunities
-
EXP Gained
2
Cash
40
Soul Worth
1 Wind
Item Drops
-
NOTE
-
Bestiary Info
Edit
Formed from the putrid vapors of a stagnant pond, its filthy sickle cleaves enemies with a frightening speed. They appear in groups, laughing wickedly.
As these are the first enemies in the game, just use a physical attack, and they'll go down easily.
Etymology
Edit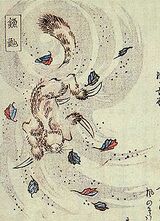 The Japanese name for the Wind Shear, "Kamaitachi" (かまいたち) is a type of yōkai, a supernatural spirit that appears in a gust of wind and slices people with sickles.
There are numerous local variations of the creature - a common motif is that it is a weasel-like creature with elongated sickle-like nails. Some variants have them appear in groups of three, and living in ponds or rivers.
Community content is available under
CC-BY-SA
unless otherwise noted.