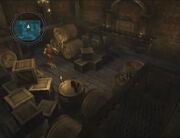 In this dungeon, Joachim must be a member of the party. He will be unable to change into Invisible or Golden Bat at this time.
The dungeon is not too difficult. The only puzzle involves lowering or raising planks to cross over boxes and wine barrels. At first, the player will fight thugs, but later on monsters will be encountered too. Close to the end of the dungeon, Joachim will fight Veronica alone as Grand Papillon. After beating her, she will summon another boss, Meursault. Afterwards, Joachim will follow Yuri on his journey.
There are two worthwhile elements after beating Wine Cellar. In one area, Blanca will encounter another wolf for the Wolf Bout. Additionally, a shopkeeper opens up a special game called "Lucky Chests." The goal is to find the same item in each chest to get it. If all chests are opened, the shopkeeper will give Yuri a prize. A new prize will be given after certain moments of the game.
Wolf Bouts

Name

Notes

Kelly

Wine Cellar Revisit.
Community content is available under
CC-BY-SA
unless otherwise noted.