Xi Dazun
Shadow Hearts: From the New World
HP
93
MP
65
Element
Wind
Height
Abilities
Arc Surge

Gale Blast

Location
Machu Picchu
Immunities
Poison

Petrify
P-ATK Down
Sp-DEF Down
Slow
Apathy

Calories
+3
Cat Coins
1 Octopus
EXP Gained
147
Cash
145
Souls Gained
1
Item Drops
Thera Root (3%)
Snap Card
NOTE
-
Enemy in Shadow Hearts: From the New World.
A primeval life form that lurks in the lowest levels of the other world. No intelligence or sense of self. Lives on instinct. Hard outer shell provides defense.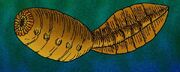 Xi Dazun is a misromanisation of Xidazoon, an extinct mollusc-like creature from the Cambrian period.
Community content is available under
CC-BY-SA
unless otherwise noted.