Yatanokami
Shadow Hearts: Covenant
HP
840
MP
0
Element
Water
Weight
Heavy
Abilities
-
Location
Asuka Stone Platform
Immunities
Poison

Deadly Poison
Paralysis
Seal
Petrify
Delay
HP Down
P-DEF Down
Sp-DEF Down


EXP Gained
4300
Cash
2380
Souls Gained
4
Item Drops
Daphne Fruit
NOTE
-
Bestiary Entry
Edit
Native god of snakes, he also governs over all bad fortune. It is said that those who see him become infertile for three years.
Etymology
Edit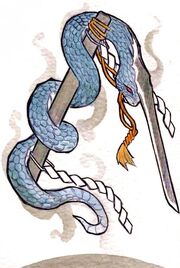 As described in the bestiary, the Yato-no-kami (夜刀の神) were snake gods of bad fortune. However, seeing them was said to bring death upon a family member.
Their name means, "God(s) of the Night Sword".
Community content is available under
CC-BY-SA
unless otherwise noted.