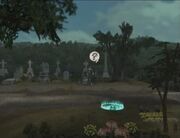 This area only becomes a dungeon shortly after Battleship Mikasa. Upon entering it, Yuri and the others enter an Otherworld summoned by Garan to trap them.
Items
[
]
Ground
[
]
Special Defense Down 3 - Examine the first grave with a cross headstone.
Soul Drop - Examine the grave to the right of Retired Old Man Iwai after the events at Hojo's lab.
NPC Interaction
[
]