Bestiary Entry
Edit
Creature which acts as the Idar Flamme's attack mechanism. Its internal combustion engine allows it to attack powerfully and tirelessly in all directions.
Etmyology
Edit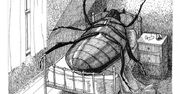 The Japanese characters for Zamuza ("ザムザ") indicate that the name of the creature is a slight misromanisation of Samsa - the surname of the protagonist from Kafka's The Metamorphosis, Gregor Samsa, who awakens one day to find himself transformed into a grotesque giant insect.
The forename of the protagonist is also referenced by the recurring Gregor enemy.
Community content is available under
CC-BY-SA
unless otherwise noted.