Zosim
Shadow Hearts: Covenant
HP
27
MP
0
Element
Fire
Weight
Normal
Abilities
-
Location
Ardennes Forest
Immunities
Poison

Deadly Poison
Seal
P-ATK Down
P-DEFDown


EXP Gained
4
Cash
35
Souls Gained
1
Item Drops
Pure Leaf
NOTE
-
Enemy in Shadow Hearts: Covenant
Bestiary Entry
Edit
Wasp pupa infested by a parasitic snake. Known by some as the god of wasps and bees, it relies on the snake in its mouth to seize its prey.
Etymology
Edit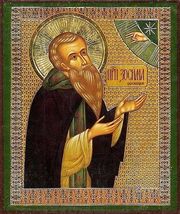 Zosim derives from Saint Zosima of Solovki (named in Slavic as "Zosim"), a monk venerated in Orthodox traditions as one of two saints of bees and beekeeping.
Community content is available under
CC-BY-SA
unless otherwise noted.